Garagiste Healdsburg: A Wine Lover's Gem
Last Sunday my wife and I needed a day away from the grind, so we impulsively decided to explore a bit of wine tasting in Healdsburg, California – prompted by a random tweet by Chris Sacca in which he mentioned that Cartograph Wines is his favorite winery. Completely unfamiliar with Chris' taste in wine, it really didn't matter because we were looking for an excuse to get out… so, Healdsburg or bust!
Healdsburg is located at the center-point of the Alexander Valley, Dry Creek Valley and Russian River Valley wine producing regions. Thanks largely to the growth in quality wine production in this area – and high quality Pinot Noir wines in particular – Healdsburg has evolved from a quiet little town to a delightful destination with tasting rooms, charming and sophisticated restaurants, shops and great atmosphere. We encountered perfect weather, friendly people and happy dogs enjoying the day there.
Enter Garagiste Healdsburg
Garagiste Healdsburg is a wine tasting collaboration established by Cartograph Wines and Stark Wine – both, micro-wineries which share the same wine making philosophy of quality over quantity. They just opened the tasting room in July of this year and they've done a great job in my opinion. The venue has comfortable patio seating with a pleasant fountain, as well as inside seating, so take your pick. Or just stand at the bar and learn about their wines, as we did.
Our hosts were Cartograph Wines proprietors Serena Lourie and Alan Baker. Serena and Alan were an absolute delight to speak with, and both very open and informative about their wine making. Sincere passion for their craft is abundant and obvious in each of them – and infectious. Serena brought us up to speed regarding the wines that both they and Stark produce, while Alan shared specifics of the grape clones used for each wine. I'm a neophyte when it comes to Russian River and Dry Creek Valley pinots and Serena and Alan made me very comfortable as they shared their knowledge. Christian Stark was not at Garagiste on this day, but Serena and Alan are quite knowledgeable about the Stark offerings and explained the materials and processes which Christian employs in making his wines.
We tasted six wines – three from each winery. Cartograph Wines was offering two Pinot Noirs and a very nice Gerwürztraminer, and Stark presented a Chardonnay, a Syrah and a Viogner – the latter employing grapes from the Sierra foothills because of the advantageous (for the variety) warmer weather there.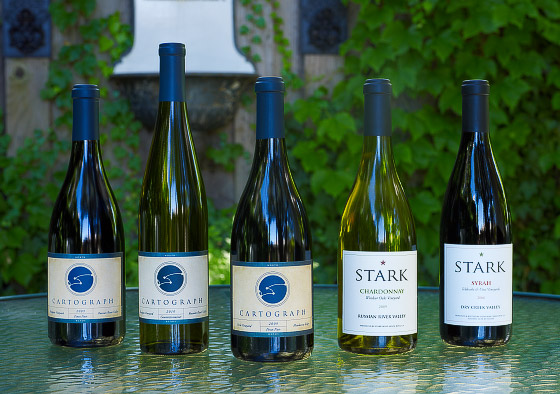 Before visiting Garagiste Healdsburg I read on the Cartograph Wines website that they produce a Gerwürztraminer, but I must admit that the "Gerwürz" was of least interest to me. I love good pinots and cabs., and have never really been fond of floral or fruity Alsatian-style wines. Well, I got a lesson in how different this variety can be. The Cartograph Gerwürtz is pleasantly dry (just as they state on their website), yet complex and delicious, without a florid nose that I don't care much for. A great surprise for me.
Two fine Pinot Noir wines are currently offered by Cartograph Wines: one with grapes from Floodgate Vineyards, and one made from Perli Vineyard grapes. Each is distinctly different, complex and elegant. In fact, we enjoyed a bottle of the Cartograph Wines Floodgate Pinot Noir last night with grilled pork tenderloin and pearl couscous made with sauteed mushrooms, pignoli nuts (pine nuts), celery, garlic, shallots and dried mission figs (simmered in a bit of the pinot to reconstitute) and it ROCKED! You should have been here. ;-)
The Stark Wine Chardonnay is not a typical heavy-handed, oak-laden wine. We've grown tired of such wines, and have in fact largely moved away from Chardonnays because of the popularity (and ubiquity) of the heavy oak style. Serena explained to us that Christian Stark uses stainless and "neutral oak" barrels to avoid the heavy oak elements and that suits us just right. In fact, the Stark Chardonnay has a distinct coconut element, both on the palate and the nose. We look forward to enjoying a bottle with a nice halibut meal.
The Syrah from Stark is another example of the care with which both of these wineries craft their wines. It's full-bodied, not overly round or mushy (as so many syrahs can be), and in fact it's complex and well-balanced. To Stark's credit, the current release is a 2006 vintage – a pleasure to see, in contrast to the really young reds that get pushed into the market much of the time these days. I need to taste this wine again, without tasting five other wines first, to better appreciate its nuances. I purchased two bottles for just such a study.
And finally, the Stark Viogner. I have very little experience with this variety, but enjoyed it very much. It boasts a strong stone fruit complexity that seemed like it would pair nicely with cheese and fruit. In fact Serena suggested that it is fantastic with a nice brie and apricots, and that made perfect sense.
In case you haven't noticed, there's a common thread here which applies to each of the wines from both of these micro-wineries: careful attention to quality to produce elegant, well-balanced, nuanced wines. It's not often that we've tasted wines on our explorations where we actually enjoyed each wine we tasted and envisioned the setting in which we'd like to enjoy them again.
So enough of my blathering here. For those close enough to do so, put a picnic together and check out Garagiste Healdsburg. You probably need a break from the grind, too. They ship to many U.S. states as well.
Garagiste Healdsburg is located at 439 Healdsburg Avenue, two blocks north of the plaza. Their hours of operation are from 12:00 noon to 7:00 p.m., Thursday through Sunday (by appointment Monday–Wednesday).
Cheers!