Tomatillo Salsa Verde: My Favorite Salsa Recipe
Here's the recipe for my favorite salsa. I've been asked for it several times by friends and provided it by phone, but when recently asked to email it I thought it would be better to just post it here. It's a tomatillo salsa verde, or green salsa. It's really simple to make and requires no cooking. This salsa is addictive when eaten with tortilla chips, but it's also amazingly versatile as an accompaniment to various foods. I love it on grilled salmon – it's great on halibut or chicken too. Use it on beef steak (or roast pork or lamb) similar to how you might use a chimichurri sauce. And it's killer on mahi mahi or shrimp tacos and burritos. Oh, and breakfast potatoes and omelettes, and… well, you get the idea. Of course, all of this assumes it doesn't get eaten before the food comes off the grill.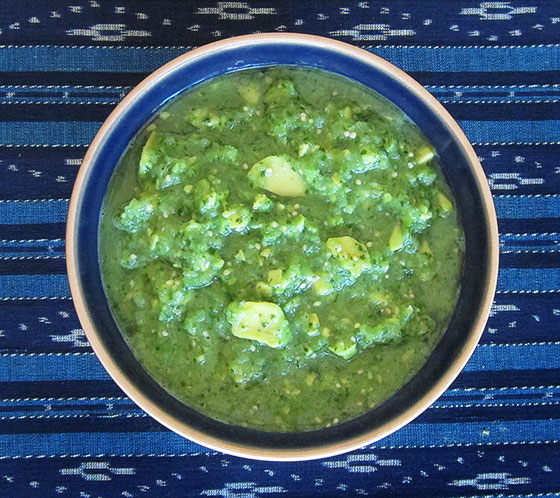 Okay, enough talk. Let's get to this easy recipe.
Ingredients:
1 pound fresh tomatillos, husks removed, rinsed, patted dry and quartered
1 bunch fresh cilantro (probably about 1/2 to 3/4 cup)
1 fresh serrano chili pepper, green, seeds removed, finely chopped [1]
1/2 to 1 fresh habenero chili pepper, seeds removed, finely chopped [1]
1 medium or large garlic glove (or two small cloves), quartered
1 ripe avocado
1 fresh lime [see note 2]
Kosher salt
Fresh ground black pepper
Method:
In a food processor combine the tomatillos, cilantro, chilies and garlic. Add a few twists of fresh ground black pepper and a couple of teaspoons of kosher salt. I like this recipe with a bit of salt, but if you need to reduce the salt you can replace it with some lime juice to taste. Remember that kosher salt is less intense than iodized table salt. I usually add more salt, but taste it after processing to decide.
Blend well in the processor until the ingredients are well processed. Some texture is desired, but not big chunks.
Once well processed, taste for salt and adjust. You'll be adding the avocado at the end, so anticipate that it will need a bit of salt for that. Also now is the time to squeeze in a bit of lime if you feel the tomatillos lack acid or are a bit sweet. They vary, so adjust to your taste.
Finally, add the avocado as chunks (be sure to keep the pit aside for later [3]) and PULSE the mixture just a few times until the avocado is evenly chopped and distributed as chunks larger than the rest of the salsa mixture.
That's it. Enjoy!
The salsa improves with some time to allow the flavors to mingle. Making it several hours ahead of time is best. It lasts well in the refrigerator for a day or two (or three) if you store it covered, with the avocado pit placed in the container to help keep the avocado from turning brown.
If you want a bit of color and variety gently add diced tomatoes when you serve it. It's also very nice with quality, tiny bay shrimp added and served with tortilla chips. We sometimes serve half the batch with shrimp and half without just to mix it up a bit.
[1] I find that the heat provided by the amount of chills in the above list is about right for a broad audience. However, I like it a bit spicier, so often make a hotter batch or divide it and make half as described and half with more chilies. Chilies vary in heat, so when you're tasting for salt you can add more chili to kick it up if needed. Leaving the seeds and interior ribs of the chilies in will make the salsa spicier. Also, Jalapeños can be substituted, although the flavors of the serrano and habenero are really nice. Try a red and a green jalapeño if that's the route you go. I chop the chilies before adding just to ensure even distribution.
[2] You may not need to add lime, but sometimes the tomatillos are a bit sweeter or "fruity" tasting. I like to add lime if there's a lack of acid, etc.
[3] Storing with the avocado pit really makes a difference, so do keep it if you're not planning to eat all of the salsa right away. Just place the pit in the salsa during storage and remove it when you serve (or don't).