No Thank You… for Your Investment
Raising funding for an Internet startup project is a grueling and somewhat complicated process. As most of my friends know, I'm involved in such a startup about which we're very excited. So far, the feedback has been nothing short of fantastic from all who have seen it. Our project has a humanitarian element to it, so finding the right investment partner (or partners) is very important to us. We're taking a lot of time to find the right fit. We truly want our investor to make a handsome return, but we want to work with people who care about more than just making a buck. To that end, we have stepped away from potential investors for various reasons, and this week we did again. I'd like to share a bit of the "what" and "why".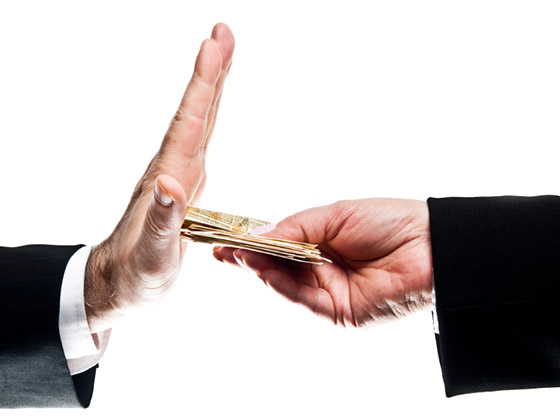 First, even if our project (or yours) did not have a humanitarian element we'd still want to be very selective regarding the type of investors with whom we work. This is fundamental to any long-term business relationship and extremely important in the Internet startup world. We must like and respect our partners, and this must be truly mutual for the project to flourish.
Angel investor background: Working with a special liaison, we presented our project to what was described to us as a very special angel investor. We did a lot of background due diligence on the individual and he was more than qualified as an investor and a professional. This person could be considered to have a very public persona within his profession and it was stated that he was interested in investing in special projects which will do good, and which are "bigger than he is". That sounded like potential for a fit.
We're looking to raise investment funds of a non-trivial amount, i.e. solid seven figures. But it must come from a truly ethical source and someone(s) genuinely interested in building something great to help others. That's not the easiest criteria to start with, but we thought we had a good fit with this investor who had stated that they LOVE our project.
So what went wrong? Why did we withdraw our invitation to invest, when we thought we were likely going to close with this investor? We put a tremendous amount of work into our presentation, in a form suitable to the investor's preferences and we were told that we hit all the right notes. In fact, we received a term sheet with an offer to which we countered and we were getting closer to mutually-agreeable terms. We weren't in exact alignment yet, but the differences were shrinking – mostly centering on valuation – and we felt a close was possible soon.
We returned what we had hoped would be our final adjustments to the term sheet, but still remained opened minded, as we always want to consider all parties and their valid needs. In other words, this was our final offer unless we could be convinced to flex a tiny bit more. But here's where the deal went south: The investor received the package via e-mail on Wednesday evening, May 16th and replied with thanks and "I will review over the weekend and get back with you the beginning of next week". That meant the following Monday or Tuesday, and that's consistent with his pattern up to that point. Well, the next Tuesday came and went; the Memorial Day holiday weekend was approaching and so we figured it might be the following Tuesday that we'd have our reply. We contacted our liaison with the investor to check status. We were assured that he was still VERY interested and looking at a couple of options to help get it all settled…
Then, after waiting an additional week, we get a nasty e-mail stating that the e-mail attachment could not be opened; and he had his "best IT men working on it for the past five business days" to open the attachment, so he knew "it wasn't on his end". This was then followed by some disrespectful, condescending crap and an offer to invest at a split between what he understood our offer would be and his last. WHAT?? You want us to believe that someone in IT spent more than 90 seconds on it before realizing that the file was corrupted in transit?? (And by the way, the file opened fine for others on various operating systems, even after the file name was corrupted.) Would it not make sense to simply ask for a new file to be sent? Are your IT people so inept as to waste valuable time on such a thing? Or are you prone to lies and attacks when you attempt to manipulate others during negotiation? If this is how one functions during the courtship and honeymoon, how is it likely to be when in the trenches of business together?
Now let's break this down (in case it's not obvious):
1) After briefly attempting to open an e-mail attachment which seems to be corrupted, a normal person would simply request a replacement – not waste time on the original.
2) Rather than berating those with whom one is about to invest a large sum of money, does it not make sense to pleasantly seek a solution to the minor hiccup? Hint: yes.
3) If an investor is showing signs of Napoleonic tendencies over rules of contact and something so common as a corrupted attachment file name, what will the relationship on your Board of Directors be like? Answer: Not pleasant, nor productive!
4) If the investor realizes that he did not respond in the time frame which he personally had set, and which crowded the expiration date of the original term sheet, why lie about spending five days on attempting to open the file? Why not simply say "sorry, I needed a bit more time to complete my process" or similar? This is either meant to manipulate the time frame and press toward urgency to pressure a close at his desired terms, or simply a lack of ability to accept responsibility for one's own delay by apologizing and rescheduling. Either way, a bad partner! Walk away.
5) Suggesting that the team's technical ability is in question because the attachment could not be opened? Do I really need to point out the flaws here? Our web application is comprised of thousands of lines of code, including (but not limited to) PHP, Java, JavaScript, Perl, XHTML, CSS, and HTML5, in addition to various server technologies. We're pretty sure we know how to attach a file to e-mail, and we know how to replace it if it gets corrupted. This attack method was used to intimidate so that we would acquiesce to the investor's terms (in this case, additional equity), but as mature and experienced business people we were not phased. Don't let this negatively affect you. See it as the blessing it is (a clear sign of things to come if you accept his money) and walk away from this investor. A bad investor can be worse than no investor at all.
What's the moral of the story? Keep your business standards high, and never, ever accept investment from someone who shows little or no sincere respect for you and your team at any time throughout the process – or who thinks too highly of themself. Of course in this investor's previous counter-offer he stated "Your company and its leadership is above reproach and I am well pleased" so go figure. Bullying is not a rare tactic in business negotiation, but don't let it affect you. It tells you two very important things about your negotiation counterpart: 1) S/he is very interested in your deal (or they would have disengaged); and 2) this person may be difficult to work with in the future, so you've gained useful information to consider.
And if you're an investor: If you want to invest in great projects with great people and be a part of something really big–much bigger than yourself, DON'T BE A JERK!
Bottom line: We withdrew our invitation for investment and are cheerfully moving on.
One final note: Some might be tempted to blame our liaison for not properly vetting the investor, but that's not how we feel at all. The liaison has known the investor for a long time and they have closed several investment transactions. However, we gather (from certain inquiries) that many of those investments were made in which the principles were more desperate for funding and didn't have the resources or experience to repel or avoid such tactics. The investor simply tarnished his own "face" and the liaison has likely now seen another side of him.

Posted on Friday, June 1, 2012 in
Startup
•